Windows Subsystem for Linux (WSL)
is a compatibility layer for running Linux binary executables (in ELF format) natively on Windows 10. Microsoft and Canonical partnered together to enable an Ubuntu image to be downloaded and extracted to the user's local machine, and for the tools and utilities contained within that image to run natively on top of the WSL.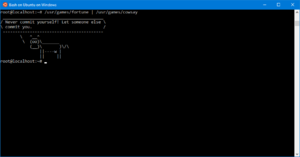 Beta testing version
Microsoft has announced the completion of the beta testing of the subsystem WSL (Windows Subsystem for Linux), readiness for everyday use and the transfer of WSL to the category of fully supported Windows technologies. Currently, WSL is only available in the Windows 10 Insider test builds, but in the autumn update, the ability to run executable Linux files will be brought to users in the Windows Fall Creators Update.
Recall that the launch of native Linux executables is implemented through a special layer, on the fly translating system calls Linux into system calls Windows, i.e. Is a reverse analog of the Wine system.
Initially, the environment offered to the user is based on the Ubuntu package database and includes only console applications, but plans include preparation of environment options based on SUSE and Fedora.
Ad blocker interference detected!
Wikia is a free-to-use site that makes money from advertising. We have a modified experience for viewers using ad blockers

Wikia is not accessible if you've made further modifications. Remove the custom ad blocker rule(s) and the page will load as expected.