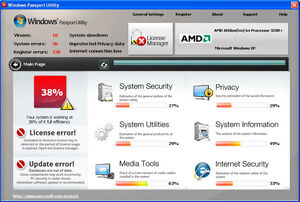 Windows Passport Utility is a rogue anti-spyware program that uses misleading methods to trick users into buying the full version of the program to remove system errors and infections so that the hackers can try to get their identity and money. It is promoted through the use of malware that usually comes from fake online scanners and infected or compromised websites. Once installed Windows Passport Utility will be configured to start automatically when you login to Windows. It will scan your computer and then state that there are many security and system problems that should be fixed immediately. However, it will not allow you to remove any of supposedly found viruses until you first purchase the program. You should ignore what this program displays and remove Windows Passport Utility from your computer as soon as possible. This rogue program will displays fake security alerts too. These alerts may be pop-up windows from your Windows taskbar that state active infections have been found or that your computer is under attack.[1]
References
Ad blocker interference detected!
Wikia is a free-to-use site that makes money from advertising. We have a modified experience for viewers using ad blockers

Wikia is not accessible if you've made further modifications. Remove the custom ad blocker rule(s) and the page will load as expected.