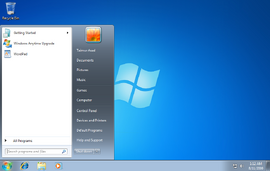 Windows 7 Starter is an edition of Windows 7, and contains the fewest features out of every version of Windows 7. It is only available in a 32-bit version and does not include the Windows Aero theme. The desktop wallpaper, and visual styles (Windows 7 Basic), are not user-changeable.
In the beta versions of Windows 7 Starter, there was a restriction that the user could only run three simultaneous applications at the same time, similar to the restriction in Windows XP Starter and Windows Vista Starter. This feature was however dropped in the final release.
This edition is available pre-installed on computers, especially netbooks, through system integrators or computer manufacturers using OEM licenses.
See also
Stub

This article is a stub, an article too short to provide more than rudimentary information about a subject. You can help the Microsoft Wiki by

expanding it

.
Ad blocker interference detected!
Wikia is a free-to-use site that makes money from advertising. We have a modified experience for viewers using ad blockers

Wikia is not accessible if you've made further modifications. Remove the custom ad blocker rule(s) and the page will load as expected.