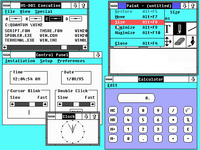 Windows 2.0 was a 16-bit operating environment from Microsoft.
Released in 1987-1988, Windows 2.01 and Windows 2.03 were shells for the DOS system, providing a graphical user interface for improved interaction than the command-line interface of DOS.
Windows 2.0 was officially released on 9 December 1987, and superceded Windows 1.0. It was succeeded by Windows 2.1x in 1988, Windows 2.11 in 1989 then Windows 3.0 in 1990. Windows 2.0 was officially supported by Microsoft until December 31, 2001.
New Features
Overlapping windows (Windows 1.x could only tile windows)
Better keyboard shortcuts
Improved shell design
VGA graphic support
EMS memory support
Application support
The first Windows versions of Microsoft Word and Microsoft Excel ran on Windows 2.0.
Applications that shipped with Windows 2.0:
CALENDAR.EXE
CLOCK.EXE
CONTROL.EXE
CVTPAINT.EXE
REVERSI.EXE
Screenshots of Windows 2.x
Legal conflict with Apple
External links
Ad blocker interference detected!
Wikia is a free-to-use site that makes money from advertising. We have a modified experience for viewers using ad blockers

Wikia is not accessible if you've made further modifications. Remove the custom ad blocker rule(s) and the page will load as expected.