Windows 1.0 is the first desktop environment developed and made by Microsoft. It is built on top of MS-DOS.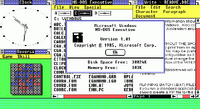 Microsoft Windows 1.0x
History
Version Release Dates:
Windows 1.00: November 6, 1985 (Beta release, recalled)
Windows 1.01: November 20, 1985 (Official Release)
Windows 1.02: May 1986
Windows 1.03: August 1986
Windows 1.04: April 1987
Succeeded by Windows 2.0 In November 1987,
Was officially supported by Microsoft until December 31, 2001.
Features
Windows 1.x System requirements:
DOS: MS-DOS 2.0
RAM: 256 KB or more,
Disk Drive(s): 2 double-sided disk drives or hard drive.
Windows 1.0 included programs:
Gallery of Windows 1.x Screenshots
External links
Ad blocker interference detected!
Wikia is a free-to-use site that makes money from advertising. We have a modified experience for viewers using ad blockers

Wikia is not accessible if you've made further modifications. Remove the custom ad blocker rule(s) and the page will load as expected.