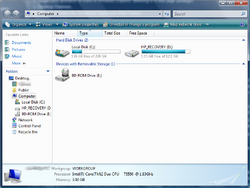 This PC (named My Computer in the past) is a directory in Microsoft Windows that lets you see your hard drives and your optical drives on your computer.
Access
Start Menu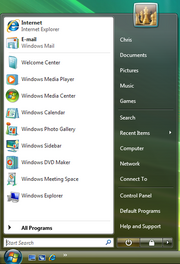 To access "My Computer", go to the Start Menu and click on "My Computer".
Desktop
My Computer can be also accessed by simply double-clicking on the icon "My Computer" in the Desktop.
Windows Explorer
Another way it can be accessed by going to the drop-down menu in Windows Explorer and select "My Computer" from the list.
Features
Hard drive information

Size
Free Space
Format
Volume Label

Optical drive info

Disc label
Disc size
Disc type
Optical drive status
Notes
From Windows 95 to Windows XP, it was called My Computer.
In Windows Vista and Windows 7, it was called Computer.
Ad blocker interference detected!
Wikia is a free-to-use site that makes money from advertising. We have a modified experience for viewers using ad blockers

Wikia is not accessible if you've made further modifications. Remove the custom ad blocker rule(s) and the page will load as expected.