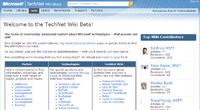 The TechNet Wiki is a library of Microsoft-related information for the IT pro community, written by the community. It only requires a Live ID to login and contribute. The wiki was created by Microsoft TechNet, but is operated by the community.
The goals of the Wiki include providing broader and more in-depth solution-focused content (how-to, procedural, troubleshooting, deployment), from a wider variety of authors, with less publishing friction than traditional mechanisms.
Content on the TechNet Wiki is not deemed to be "supported" by Microsoft, as it could be written by anyone. Users requiring Microsoft-approved technical solutions can use the MSDN Library, TechNet Library or contact Microsoft Support.
The beta of the TechNet wiki was launched in April 2010 by a team of Wiki Ninjas - interested employees who are almost entirely not directly affiliated with the project.
The wiki is overseen by a Community Council, which consists of 4 Microsoft employees, 2 MVPs and 2 "at large" community members.
Links
Ad blocker interference detected!
Wikia is a free-to-use site that makes money from advertising. We have a modified experience for viewers using ad blockers

Wikia is not accessible if you've made further modifications. Remove the custom ad blocker rule(s) and the page will load as expected.