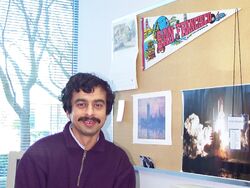 Surajit Chaudhuri is a researcher at who received his Ph.D. in Computer Science from Stanford University in 1991 and later joined Microsoft Corporation in 1996 as a member of their Microsoft Research team, where he specializes in database management systems. He currently leads his department's Data Management, Exploration and Mining group.
External links
Ad blocker interference detected!
Wikia is a free-to-use site that makes money from advertising. We have a modified experience for viewers using ad blockers

Wikia is not accessible if you've made further modifications. Remove the custom ad blocker rule(s) and the page will load as expected.