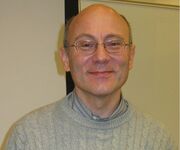 Henrique "Rico" S. Malvar (born 1957[1] in Rio de Janeiro, Brazil) is a Distinguished Engineer, senior signal processing researcher, and current Managing Director of Microsoft Research's largest laboratory in Redmond, Washington, USA.[2] He assumed the role following the departure of long-time Managing Director Dan Ling in 2007, and oversees about 350 researchers.[3][4]
History and contributions
Malvar earned his bachelor's degree at the University of Brasília and his master's degree at the Federal University of Rio de Janeiro. He received his Ph.D. in electrical engineering and computer science from the Massachusetts Institute of Technology (MIT) in 1986, where his thesis was on "Optimal pre- and post-filtering in noisy sampled-data systems,"[5] and served as a visiting professor at MIT for the next year. From 1979 to 1993, Malvar was a faculty member at the University of Brasília, where he founded and headed the Digital Signal Processing Research Group[6][7] (in Portuguese, Grupo de Processamento Digital de Sinais or GPDS[8]).
In industry, Malvar served as vice president of Research and Advanced Technology at PictureTel from 1985 to 1987[1] (which has since been acquired by Polycom). In Fall 1997, he joined Microsoft Research where he co-founded and managed the Signal Processing research group, now the Communication and Collaboration Systems and Knowledge Tools groups. He was a Redmond lab director from 2004 to 2007 before stepping up to become Managing Director.[6]
At Microsoft, Malvar contributed to the development of audio coding and digital rights management for the Windows Media Audio, Windows Media Video, and HD Photo formats, as well as to a variety of tools for signal analysis and synthesis.[6][9]
As of December 2008, he has published over 150 technical articles and has been issued over 80 patents.[2]
Editorial and committee positions
Malvar has served as an editor or committee member for the following journals, conferences, and organizations:[6]
Titles and awards
Malvar holds the following prestigious titles and awards:[9]
References
External links
Ad blocker interference detected!
Wikia is a free-to-use site that makes money from advertising. We have a modified experience for viewers using ad blockers

Wikia is not accessible if you've made further modifications. Remove the custom ad blocker rule(s) and the page will load as expected.