Pocket PC 2002, originally named "Merlin" , was released in October 2001. Like Pocket PC 2000, it was powered by Windows CE 3.0. Although it is primarily intended for Pocket PC 240 × 320 (QVGA) devices, Pocket PC 2002 has also been used for Pocket PC phones and, for the first time, Smartphones. These Pocket PC 2002 smartphones were predominantly GSM devices. With future versions, Pocket PC and Smartphone lines are increasingly encountered when licensing terms are relaxed, allowing OEMs to benefit from more innovative and individual design ideas.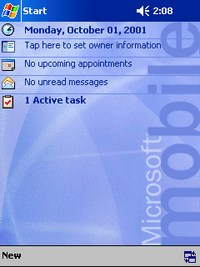 Aesthetically, Pocket PC 2002 had to be similar to the newly released Windows XP drawing. New added or updated programs include Windows Media Player 8 with Streaming Features; MSN Messenger and Microsoft Reader 2, with digital rights management support. Updates to the Office Mobile bundle include a spell checking and word counting device in Pocket Word and improved Pocket Outlook. Connectivity has been improved by transferring files to non-Microsoft devices, such as Palm OS, support for Terminal Services, and Virtual Private Networking, and the ability to synchronize folders. Other updates include an improved UI with UI and downloadable downloads and WAP in Pocket Internet Explorer.
Ad blocker interference detected!
Wikia is a free-to-use site that makes money from advertising. We have a modified experience for viewers using ad blockers

Wikia is not accessible if you've made further modifications. Remove the custom ad blocker rule(s) and the page will load as expected.