Stub

This article is a stub, an article too short to provide more than rudimentary information about a subject. You can help the Microsoft Wiki by

expanding it

.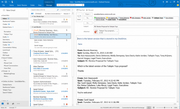 Microsoft Outlook

is a personal information manager from Microsoft, available as an integral part of the Microsoft Office suite.
Often used as an email application, it also includes a calendar, task manager, contact manager, note-taking, journal, and web browsing.
It can either be used as a stand-alone application or can work with Microsoft Exchange Server and Microsoft SharePoint Server for multiple users in an organization, such as shared mailboxes and calendars, Exchange public folders, SharePoint lists, and meeting schedules. Microsoft has also released mobile applications for most mobile platforms, including iOS and Android. Developers can also create their own custom software that works with Outlook and Office components using Visual Studio. In additions, mobile devices can synchronize almost all Outlook data to Outlook Mobile.
Versions
| Name | Version Number | Release Date | Notes |
| --- | --- | --- | --- |
| Outlook for MS-DOS | N/A | N/A | Bundled with Exchange Server 5.5 |
| Outlook for Windows 3.1x | N/A | N/A | Bundled with Exchange Server 5.5 |
| Outlook for Macintosh | N/A | N/A | Bundled with Exchange Server 5.5 |
| Outlook 97 | 8.0 | January 16, 1997 | Included in Office 97 and bundled with Exchange Server 5.5 |
| Outlook 98 | 8.5 | June 21, 1998 | Freely distributed with books and magazines for coping with newest Internet standard such as HTML mail. Outlook 98 setup was based on Active Setup which also installed Internet Explorer 4 |
| Outlook 2000 | 9.0 | June 27, 1999 | Included in Office 2000 and bundled with Exchange 2000 Server |
| Outlook 2002 | 10 | May 31, 2001 | Included in Office XP |
| Outlook 2003 | 11 | November 20, 2003 | Included in Office 2003 and bundled with Exchange Server 2003 |
| Outlook 2007 | 12 | January 27, 2007 | Included in Office 2007, except Office Home and Student edition. |
| Outlook 2010 | 14 | July 15, 2010 | Included in Office 2010 Home and Business, Standard, Professional, and Professional Plus |
| Outlook 2013 | 15 | January 29, 2013 | Included in Office 2013, except Home and Student edition |
| Outlook for Mac | 15.3 | October 31, 2014 | Included in Office 365 |
| Outlook for Phones & Tablets | 1.3 | 2015 | Included in Office 365 with support for iOS and Android |
| Outlook 2016 | 16 | September 22, 2015 | Included in Office 365 |
Microsoft Windows
Outlook 2007
Outlook 2010
Outlook 2013
Outlook 2016
Macintosh
iOS and Android
Outlook for Phones & Tablets