MyLifeBits is a project developed by Microsoft Research, the Microsoft Search Division, which consists in recording and managing all the events of a person's life through data and multimedia platforms.
MyLifeBits
MyLifeBits is a system that allows you to store the events of your life in the PC so that you can always review what you once saw, or show it to friends and family members.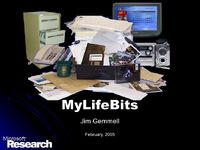 The project is the embodiment of the hypothetical computer system Memex Vanivar Bush. The project includes full-text search, text and sound annotations, hyperlinks. The MyLifeBits project consists of two parts: an experiment in the storage of lifelong information and research in the field of software.
The experimental side
During the MyLifeBits experiment, all electronic interactions of an individual (phone calls, e-mail, documents) are stored electronically. The collected data includes minute pictures.
The experimental side of the project was handled by Gordon Bell (Gordon Bell). He captured articles, books, postcards, CDs, letters, notes, documents, photographs, presentations, home movies, videotapes, voice recordings and kept them digitally for life. He wanted to keep digital phone calls, television and radio.
Software research
Jim Gemmell and Roger Lueder developed the MyLifeBits software, which is used by the SQL server to support: hyperlinks, annotations, reports, saved queries and quick searches. MyLifeBits is designed to simplify annotation (voice annotation and integration with a web browser). The project includes tools for recording web pages, radio and television.
Ad blocker interference detected!
Wikia is a free-to-use site that makes money from advertising. We have a modified experience for viewers using ad blockers

Wikia is not accessible if you've made further modifications. Remove the custom ad blocker rule(s) and the page will load as expected.