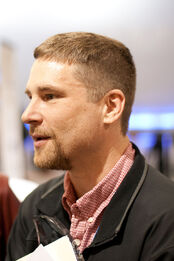 Mike Harrington was the co-founder of the computer game development company, Valve Software and a lead programmer of the game Half-Life.[1]
Previously a games developer at Dynamix and a developer on the Windows NT operating system at Microsoft,[2] Harrington founded Valve in 1996 with Gabe Newell, another former Microsoft employee: he and Newell privately funded Valve through the development of Half-Life.[1][3] Half-Life became a game industry phenomenon, winning more than 50 Game of the Year Awards; it was also named the "Best PC Game of All Time" by PC Gamer Magazine, the leading PC Games magazine.
On January 15, 2000, after the success of Half-Life, Harrington dissolved his partnership with Newell and left Valve to take an extended vacation with his wife, Monica.[1]
Harrington returned to the software industry in 2006, when he co-founded Picnik with long-time friend and former colleague Darrin Massena. Picnik was acquired by Google in March 2010.
References
| | |
| --- | --- |
| 40px | This article about a United States businessperson is a stub. You can help Wikipedia by expanding it. |
| | |
| --- | --- |
| | This biographical article relating to a computer specialist in the United States is a stub. You can help Wikipedia by expanding it. |
sv:Mike Harrington
Ad blocker interference detected!
Wikia is a free-to-use site that makes money from advertising. We have a modified experience for viewers using ad blockers

Wikia is not accessible if you've made further modifications. Remove the custom ad blocker rule(s) and the page will load as expected.