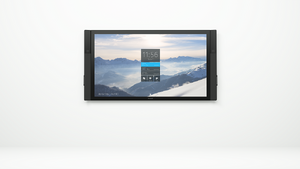 Microsoft Surface Hub is an 84-inch, 4K-high-definition, touchscreen monitor that will run a specialized version of Windows 10. The device is targeted towards Microsoft's business and enterprise customers, and is designed to allow for conference sharing and brainstorming. It was unveiled at Microsoft's Windows 10 event on January 21, 2015.
Ad blocker interference detected!
Wikia is a free-to-use site that makes money from advertising. We have a modified experience for viewers using ad blockers

Wikia is not accessible if you've made further modifications. Remove the custom ad blocker rule(s) and the page will load as expected.