Microsoft Office Publisher

(previously and commonly Microsoft Publisher) is a desktop publishing application from Microsoft. It is often considered to be an entry-level desktop publishing application, differing from Microsoft Word in that the emphasis is placed on page layout and design rather than text composition and proofing.
Publisher has historically been less well-liked among high end commercial print shops, compared with other desktop publishing applications. Publisher's position as an entry-level application aggravates lots of issues (particularly in older versions) such as fonts unavailable and embedded objects not available on service providers' machines (however, Publisher does come with tools to pack related files into a self-expanding application). Many higher end features like transparency, object shadowing, slugs, text on paths, built-in PDF output, etc. are either not fully-functional or simply unavailable (especially in previous versions). However, recent versions have greater capabilities concerning color separations and proper process coloring output. Publisher 2007 also includes the capability to output commercial press quality PDF with embedded fonts as an optional download from the Microsoft website.
Publisher is included in high-end editions of Microsoft Office. This reflects Microsoft's emphasis on Publisher as an easy to use and less expensive alternative to the "heavyweights" and also its focus on the small business market where firms do not have dedicated design professionals available to make marketing materials and other documents.
Publisher's proprietary file format is, with the exception of Adobe PageMaker, unsupported by most other applications. However, Publisher supports numerous other file formats, including the EMF (Enhanced Metafile) format, which is standard and supported across many applications and platforms. Publisher 2007 can also export in the industry-standard PDF format.
Versions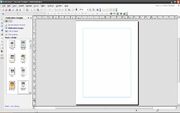 Versions of Microsoft Publisher include:
1991 Microsoft Publisher for Windows
1993 Microsoft Publisher 2.0
1995 Microsoft Publisher 3.0, also known as 'Publisher for Windows 95'
1996 Microsoft Publisher 97 (Windows 95 and higher), included with the Small Business Edition (SBE) and Professional SKUs of Office 97
1998 Microsoft Publisher 98 (Windows 95 and higher), included with the 'SBE 2.0' SKU of Office 97
1999 Microsoft Publisher 2000 (Windows 95 and higher), included with the SBE, Professional, and Premium SKUs of Office 2000
2001 Microsoft Publisher 2002 (Windows 98 and higher), included with OEM versions of the SBE and Professional SKUs of Office XP, as well as an early limited-edition retail version of the Professional SKU.
2003 Microsoft Office Publisher 2003 (Windows 2000 SP3 and higher), included with the SBE and Professional SKUs of Office 2003
2007 Microsoft Office Publisher 2007 (Windows XP SP2 and higher), included with the SBE, Professional and Ultimate SKUs of Office 2007
2009 Microsoft Office Publisher 14 (subject to change)
Logos
Microsoft Publisher Icons

| | | | | | | |
| --- | --- | --- | --- | --- | --- | --- |
| 2.0 | 97/98 | 2000/2002 | 2003 | 2007 | 2010 | 2013/2016 |
| | | | | | | |
Ad blocker interference detected!
Wikia is a free-to-use site that makes money from advertising. We have a modified experience for viewers using ad blockers

Wikia is not accessible if you've made further modifications. Remove the custom ad blocker rule(s) and the page will load as expected.