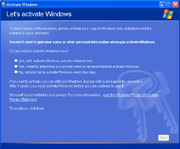 Microsoft Product Activation is form of copy protection used by Microsoft to reduce the spread of unauthorized copiies of their software and to combat software piracy.
Most Microsoft products come with product keys that must be inputted during the setup of a Microsoft product to allow installation continue and to verify the product is genuine.
As an additional step, the product may also require "activation", which involves contacting Microsoft by phone or by direct Internet access, whereupon Microsoft will supply an "activation key", which verifes Microsoft has examined the Product Key and has confirmed the software is authorized and not pirated.
For this purpose most products, especially most versions of Microsoft Windows, now use the Microsoft Genuine Advantage program, which in installed via update or comes pre-installed on most contemporary Microsoft Windows operating systems.
External Links
Ad blocker interference detected!
Wikia is a free-to-use site that makes money from advertising. We have a modified experience for viewers using ad blockers

Wikia is not accessible if you've made further modifications. Remove the custom ad blocker rule(s) and the page will load as expected.