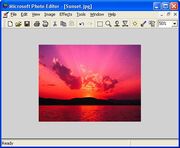 Microsoft Photo Editor was an image-editing application available in Microsoft Office 97–XP versions for Windows. It has been replaced with Microsoft Office Picture Manager, although some Photo Editor features are not available in Picture Manager.
The program was a useful tool for doing raster graphics with editing tools to texturize, negative, for gamma control, GIF transparency and many others. It was based on HALO Desktop Imager by Media Cybernetics, L.P.
Flaws
Early versions of Microsoft Photo Editor, including the version bundled with Office 2000, erased metadata from digital camera JPG images during saves.