Microsoft Hyper-V Server is a free operating system with a single role - a virtualization server, it can be downloaded from the official Microsoft® site as an ISO disk image.
Installation
Hyper-V Server provides the same hardware requirements as Server 2008 with Hyper-V. Requires server with: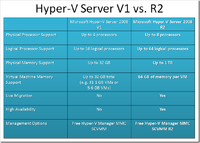 X64-compatible microprocessor Intel or AMD, Hardware-assisted virtualization (Intel VT or AMD-V) Support for hardware data execution prevention (DEP) via the Intel XD-bit or AMD NX-bit. Hyper-V Server is installed in the same way as MS Server 2008, using the same interactive installation procedure. When the installation is complete, you are prompted for a long password for the administrator account, and then a screen like the Server Core mode opens with 2 command-line windows on an empty desktop.
You can not install additional operating systems from this interface. However, you can perform some basic service tasks-for example, join a workgroup or a domain, assign a computer name, set basic network settings, add a local administrator account, configure the Windows Update service, set up a remote desktop, set regional and language options, Date and time. To actually install and manage virtual machines, you must use Hyper-V Manager (or another tool, for example System Center Virtual Machine Manager 2008) from another computer or server.
Ad blocker interference detected!
Wikia is a free-to-use site that makes money from advertising. We have a modified experience for viewers using ad blockers

Wikia is not accessible if you've made further modifications. Remove the custom ad blocker rule(s) and the page will load as expected.