Download Link: Microsoft Genuine Advantage Diagnostic Tool
About
Diagnostic Tool Information:
The Microsoft Genuine Advantage Diagnostic Tool provides detailed information about the Microsoft Genuine Advantage components and settings currently on your system.
This tool allows you to dianose and automatically resolve problems in some cases.
The data you choose to collect with this tool does not contain any information that can personally identify you and can be fully reviewed before being sent to Microsoft Support.
Windows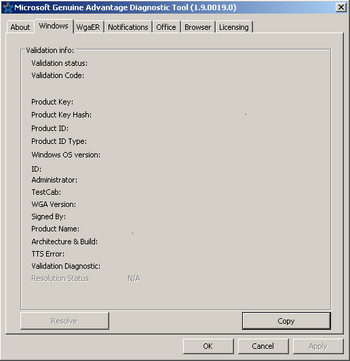 Validation info:
Validation status:
Validation Code:
Product Key:
Product Key Hash:
Product ID:
Product ID Type:
Windows OS version:
ID:
Administrator:
TestCab:
WGA Version:
Signed By:
Product Name:
Architecture & Build:
TTS Error:
Vaildation Diagnostic:
Resolution Status:
Ad blocker interference detected!
Wikia is a free-to-use site that makes money from advertising. We have a modified experience for viewers using ad blockers

Wikia is not accessible if you've made further modifications. Remove the custom ad blocker rule(s) and the page will load as expected.