Microsoft Certified Architect
is qualification awarded to the corporation Microsoft by experts in the field of information technology, confirmed by a certificate. To obtain this qualification, require an intensive course of training at Microsoft to pass several qualifying theoretical and laboratory examinations, as well as to pass an interview with mentors who already have this qualification. There were different types of certificates, differing in both specialization and software versions.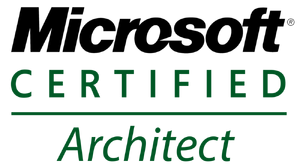 The certification was canceled by the company from December 31, 2013 due to low popularity both inside and outside the US.
Ad blocker interference detected!
Wikia is a free-to-use site that makes money from advertising. We have a modified experience for viewers using ad blockers

Wikia is not accessible if you've made further modifications. Remove the custom ad blocker rule(s) and the page will load as expected.