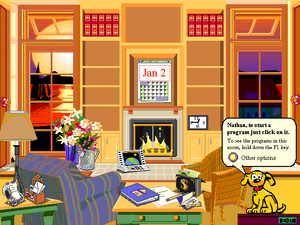 Microsoft Bob was a software product designed to ease computer use for new users. Integrated into the operating system, it was intended to provide a simpler interface than the Program Manager (on Windows NT) or Windows Explorer (on Windows 95) interfaces, by using the paradigm of a "house" with various "rooms".
The software was poorly received by critics and a commercial failure.
Microsoft Bob introduced the Comic Sans font.
Ad blocker interference detected!
Wikia is a free-to-use site that makes money from advertising. We have a modified experience for viewers using ad blockers

Wikia is not accessible if you've made further modifications. Remove the custom ad blocker rule(s) and the page will load as expected.