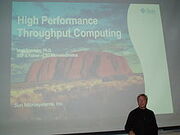 Marc Tremblay is a distinguished engineer at Microsoft.[1] Prior to joining Microsoft in April 2009, he was senior vice president and chief technology officer of the microelectronics business unit at Sun Microsystems. He was instrumental in the design of various microprocessors at Sun, including the UltraSPARC, UltraSPARC II, MAJC, UltraSPARC T1, and the forthcoming Rock processor. In the process, he has been awarded more patents than any other Sun employee.[2]
He received his bachelor's degree from Laval University in Canada, and both his M.S. (1985) and Ph.D. (1991) degrees from UCLA.
References
External links
Ad blocker interference detected!
Wikia is a free-to-use site that makes money from advertising. We have a modified experience for viewers using ad blockers

Wikia is not accessible if you've made further modifications. Remove the custom ad blocker rule(s) and the page will load as expected.