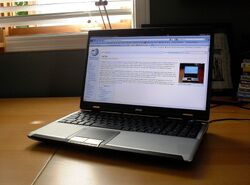 A laptop or notebook is a portable computer with a keyboard and screen attached and a built-in battery. Most have a display which folds away from the base, and most are between 10 and 17-inch display sizes.
Variants
A desktop replacement is a high-performance laptop computer, designed to provide the same capabilities as a full desktop PC, in particular a full gaming experience. Often with 17-inch display sizes and high power usage, many desktop replacements are not designed to be portable, and some come with no internal battery.
An ultrabook is a small, lightweight laptop with good performance but an emphasis on portability. These laptops generally have fewer ports and features, and have more expensive components than a standard laptop.
A netbook is a small laptop with an emphasis on being lightweight and portable with low energy usage. Netbooks usually come with a very basic operating system, such as Linux, Windows XP or Windows 7 Starter, placing an emphasis on using online and cloud-based applications via a web browser.
A laptop that also has a touch-screen display or stylus input is referred to as a tablet laptop' or a convertible laptop due to the joint between the display and base that allows the screen to face outwards when closed, enabling the laptop to be used like a tablet.
A portable computer with a fixed touch-screen display instead of a fixed keyboard is referred to as a Tablet rather than a laptop.
External Links
Ad blocker interference detected!
Wikia is a free-to-use site that makes money from advertising. We have a modified experience for viewers using ad blockers

Wikia is not accessible if you've made further modifications. Remove the custom ad blocker rule(s) and the page will load as expected.