Stub

This article is a stub, an article too short to provide more than rudimentary information about a subject. You can help the Microsoft Wiki by

expanding it

.
Microsoft Internet Explorer 6 (IE6) is the sixth major revision of Internet Explorer, a web browser developed by Microsoft for Windows operating systems. It was released on 27 August 2001, shortly after the completion of Windows XP. It is the default browser that comes with Windows XP and Windows Server 2003, and was also made available for Windows NT 4.0, Windows 98, Windows 98 SE, Windows ME, Windows 2000, and Windows Home Server. IE6 SP1 is the last version of Internet Explorer available for Windows NT 4.0, Windows 98, Windows 98 SE, Windows ME, and Windows 2000. IE6 SP2+ and IE7 are only included for Windows XP SP2.
This version of IE has been widely criticized for its security issues and lack of support for modern web standards, making frequent appearances in "worst tech products of all time" lists, with PC World labeling it "the least secure software on the planet".
Despite dominating market share (attaining an 80% peak in mid-2004), it was infamous for its security holes and outdated features. In 2004, Mozilla finalized Firefox to rival IE6, becoming highly popular and acclaimed for its security, add-ons, speed, and other modern features such as tabbed browsing. Microsoft was planning to fix these issues in Internet Explorer 7 by summer of 2005, but it was delayed until an October 2006 release, over 5 years after IE6's debut.
Because a substantial percentage of the web audience still uses the outdated browser (most notably in China), campaigns have been established to encourage users to upgrade to newer versions of Internet Explorer or switch to different browsers. Some websites have dropped support for IE6 entirely, most notably of which is Google dropping support in some of its services. According to Microsoft's modern.ie website, as of August 2015, 3.1% of users in China and less than 1% in other countries are using IE6.
Overview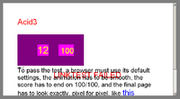 When IE6 was released, it included a number of enhancements over its predecessor, Internet Explorer 5. It and its layout engine Trident are a requirement for many programs including Microsoft Encarta. IE6 improved support for Cascading Style Sheets (CSS), adding support for a number or properties which previously had not been implemented and fixing bugs such as the Internet Explorer box model bug. In Windows XP, IE6 introduced a redesigned interface revolving around the operating system's default theme, Luna.
In addition, IE6 added DHTML enhancements, content restricted inline frames, and partial support of DOM Level 1 and SMIL 2.0. The MSXML engine was also updated to version 3.0. Other new features included a new version of the Internet Explorer Administration Kit (IEAK), which debuted IExpress, a utility to create self-extracting INF-based installation packages, Media bar, Windows Messenger integration, fault collection, automatic image resizing, and P3P. Meanwhile, IE6 dropped support for X Bitmap (XBM) image files and in 2002 the Gopher protocol was disabled.
Ad blocker interference detected!
Wikia is a free-to-use site that makes money from advertising. We have a modified experience for viewers using ad blockers

Wikia is not accessible if you've made further modifications. Remove the custom ad blocker rule(s) and the page will load as expected.