GraphEdit
is a utility that comes with the DirectShow SDK. It is intended for visualization of construction of the graph of filters DirectShow. Filters are objects that perform functions of capture, transformation and visualization of data. In the program, the filters are represented in the form of rectangles.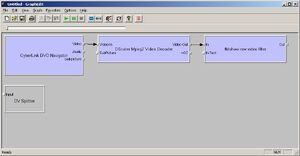 Schematically, in the program, the arrows show the connections between the filters, through which the data stream moves. Once the filter graph is created in the program, you can run it for execution.
See also
Ad blocker interference detected!
Wikia is a free-to-use site that makes money from advertising. We have a modified experience for viewers using ad blockers

Wikia is not accessible if you've made further modifications. Remove the custom ad blocker rule(s) and the page will load as expected.