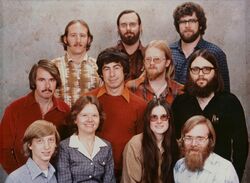 Robert "Bob" O'Rear was born in Wellington, Texas and later graduated from the University of Texas at El Paso with a BS in Mathematics.
He first worked for Microsoft in 1977 as their chief mathematician and project manager, and his duties included reworking the mathematical coding of Microsoft's programs.
He was the project leader and primary programmer of the first edition of MS-DOS on the IBM PC, which was released in 1981. Later, after MS-DOS became a success, he became the international director of sales and marketing.
He retired from Microsoft in 1993 and is no longer employed by Microsoft Corporation, though he is a member of the advisory council of his university alma mater, where he encourages Microsoft's efforts at student recruitment for their industries.
External links
Ad blocker interference detected!
Wikia is a free-to-use site that makes money from advertising. We have a modified experience for viewers using ad blockers

Wikia is not accessible if you've made further modifications. Remove the custom ad blocker rule(s) and the page will load as expected.