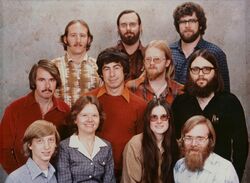 Bob Greenberg is in the second row, second from the left in the photo, which he arranged to be taken for Microsoft from a photo studio during his employment.
He was first hired in 1977 by Bill Gates (with whom he had attended Harvard) to create a new version of the programming language BASIC for a Texas Instruments computer, and later he served Microsoft as a programmer during it's early days.
He also donated $7,000 in mid-1977 during a fiscal shortage.
He left in 1981 and is no longer employed by Microsoft Corporation.
External Links
Ad blocker interference detected!
Wikia is a free-to-use site that makes money from advertising. We have a modified experience for viewers using ad blockers

Wikia is not accessible if you've made further modifications. Remove the custom ad blocker rule(s) and the page will load as expected.