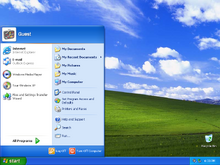 Bliss is the name of the default computer wallpaper of Microsoft's Windows XP operating system. It is an image of a rolling green hill and a blue sky with cumulus and cirrus clouds. The landscape depicted is in the Los Carneros American Viticultural Area of Sonoma County, California, United States.
Former National Geographic photographer Charles O'Rear, a resident of the nearby Napa Valley, took the photo on film with a medium-format camera while on his way to visit his girlfriend in 1996. While it was widely believed later that the image was digitally manipulated or even created with software such as Adobe Photoshop, O'Rear says it never was. He sold it to Corbis for use as a stock photo. Several years later, Microsoft engineers chose a digitized version of the image and licensed it from O'Rear.
Over the next decade it has been claimed to be the most viewed photograph in the world during that time.Since it was taken, the landscape in it has changed, with grapevines planted on the hill and field in the foreground, making O'Rear's image impossible to duplicate for the time being. That has not stopped other photographers from trying, and some of their attempts have been included in art exhibits.
Ad blocker interference detected!
Wikia is a free-to-use site that makes money from advertising. We have a modified experience for viewers using ad blockers

Wikia is not accessible if you've made further modifications. Remove the custom ad blocker rule(s) and the page will load as expected.